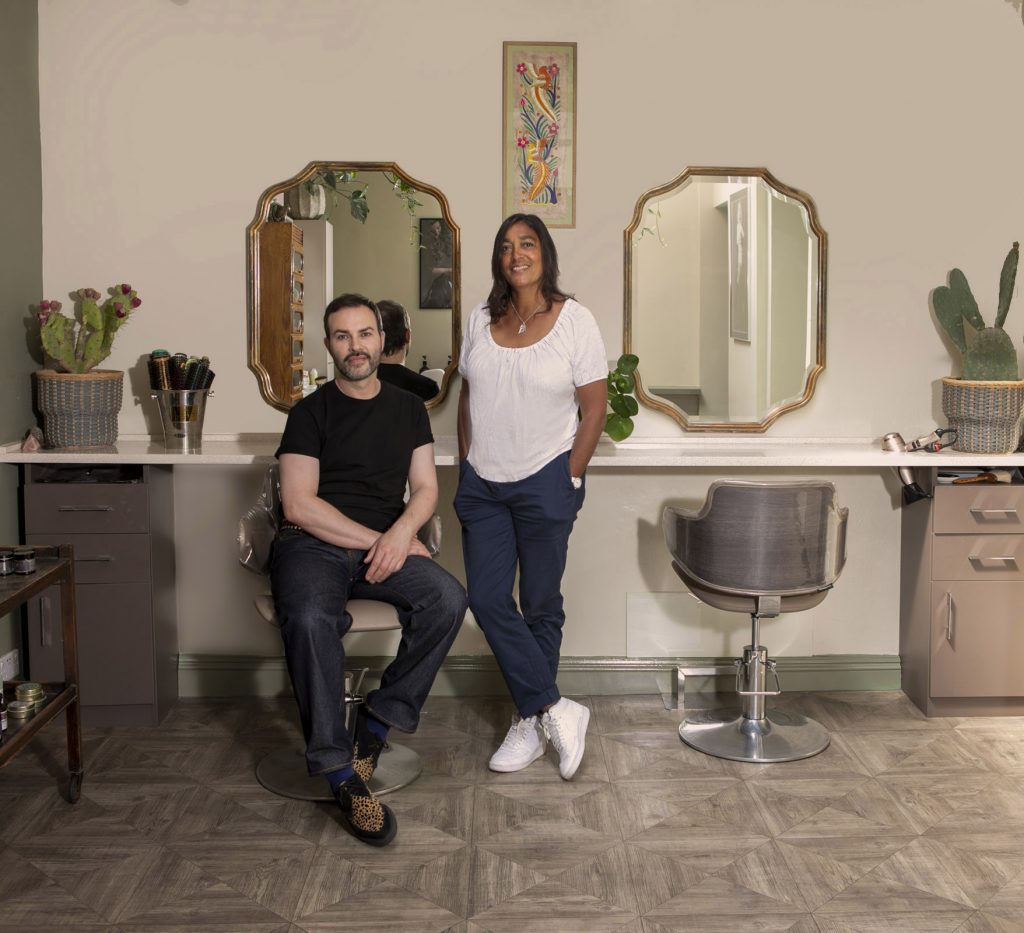 When my business partner and I were planning the launch of our salon, we made a decision to do everything we could to reduce our impact on the environment and endeavour to give back something to communities in need.
Salon Fit Out
The first things we chose were the 'Maleti – Green Hug' styling chair, beautifully crafted with a recycled plywood shell & recycled upholstery and our worktops, made from recycled marble.
Our chandeliers are sourced from a charity company called 'The Handmade Story', which produce chandeliers from hand dyed, hand rolled clay beads, most of which are produced by women and their families, whose life is affected by HIV and might otherwise have no source of income.
The salon is decorated using Farrow & Ball paints who pride themselves on water based and eco-friendly paint formulas as well as responsible practices.
Our makeup storage unit is a reclaimed 1930's haberdashery unit & our 'cloakroom' features a reclaimed 'turn of the century' Dutch wardrobe. 
Day to Day Operation/Usage
We use 'Eco Heads' at our backwashes, which reduces energy used and cuts down our water usage by up to 65%.
Our toilet paper is sourced from 'Who Gives A Crap' who donate 50% of their profits to help build toilets and improve sanitation in the developing world. 
As a result of the current pandemic, we have had a particular focus on recyclable 'single' use items and now utilise recyclable or biodegradable capes, masks and gloves.
Prior to the Covid pandemic we were serving Coffee supplied by GRIND which use biodegradable coffee pods. With the need to adapt to current circumstances we now offer clients Eco Spring Water provided by Aqua Amore in recyclable cartons with biodegradable straws supplied by Keriber.
We recycle approximately three times more waste than of which we dispose.
Products 
The brands we have chosen to use within the salon and retail to our clients are leaders in sustainability for businesses of their kind. These brands include OWay, Hairstory and Davines.
OWay is our primary colour brand. Their tint is 98% biodynamic. It is also ammonia free, dermatologically tested, nickel tested and free of synthetic fragrances. OWay hair care products are free from sulphates, parabens & silicones, they are also soap and detergent free. All products labels are fair trade, made from sugar cane waste and all packaging is recyclable. We also offer Oway hair bath and conditioner refills. OWay was the first brand to go plastic free, globally, in 2013. For more information about OWay, click here.
Sustainability is key for Davines. They use food grade reusable & recyclable packaging. Product ingredients are derived from organic and/or ethical farming. Davines' manufacturing plant in Parma, Italy has reduced its co2eq emissions by almost 50% in the last two years, mainly by using Biomethane, rather than gas from fossil-fuel sources. To find out more about Davines, click here.
Hairstory offers a capsule collection of three cleansing & moisturising products, plus a handful of hairstyling and finishing products. The cleansing/moisturising products are available in pouches with 'Hairstory Refill Club' offering a subscription service, which delivers product right to your door. Hairstory are a contributing company to the '1% for the Planet' scheme.  To read more about Hairstory, click here.
Charitable Donations/Supported Charities
As Business Partners we have been very fortunate in both circumstance and opportunity and from the outset, we agreed that we would commit to using our business to give back to society on an ongoing basis.
In our first year of trading, we donated two pounds from each paying client's bill and after the end of our business year, distributed the monies to our chosen charities as follows:
Become
A charity supporting care leavers & young care givers as they embark on further education and life outside of the care system.
The Worldwide Tribe
A charity set up to aid asylum seekers living in appalling conditions in the refugee camp in Calais known as 'The Jungle'.
Freedom Charity
An organisation seeking to see a ban of female genital mutilation and forced marriage.
Continuing this initiative and seeking to expand on it, in our second year of trading, we invited our clients to join us and personally match our contribution in addition to their bill.
We are sincerely grateful to all of our clients who chose to join our desire to support charitable causes and after our second year of trading we are delighted to announce the charities to whom we have made a donation:
Coronavirus Appeal/Disasters Emergency Committee
Supporting people around the world such as families who have fled violence, conflict and hunger in countries where there is no NHS if they fall ill.
Choose Love
An organisation who goes where the need is greatest, find the local organisations doing the most effective work and give them what they need to help people – whether that's funding, material aid or volunteers.
Beauty Backed
A new initiative designed to raise money for those in the beauty industry who have been unable to work (due to government restrictions) or claim income through government schemes.
We would like to thank all those of our clients who made contributions which we have passed on to our nominated charities. As a fledgling business recovering from our second and third year's trading blighted by the pandemic, we are delighted to have survived.  Whilst currently we are unable to make any further donations, we very much look forward to relaunching our previous initiative in the future and to supporting the lives of others through our continuing business.
Smart Works
Supporting Women to employment by providing personalised styling sessions resulting in a complete outfit of high quality clothes and accessories for job interviews; one-to-one interview preparation and coaching; and on successful interview, receipt of five additional pieces of clothing meaning that they can start a new role with a capsule working wardrobe to see them through until their first pay cheque.
Street Child
Who focus on educating children, protecting children, empowering families and helping children in emergencies.